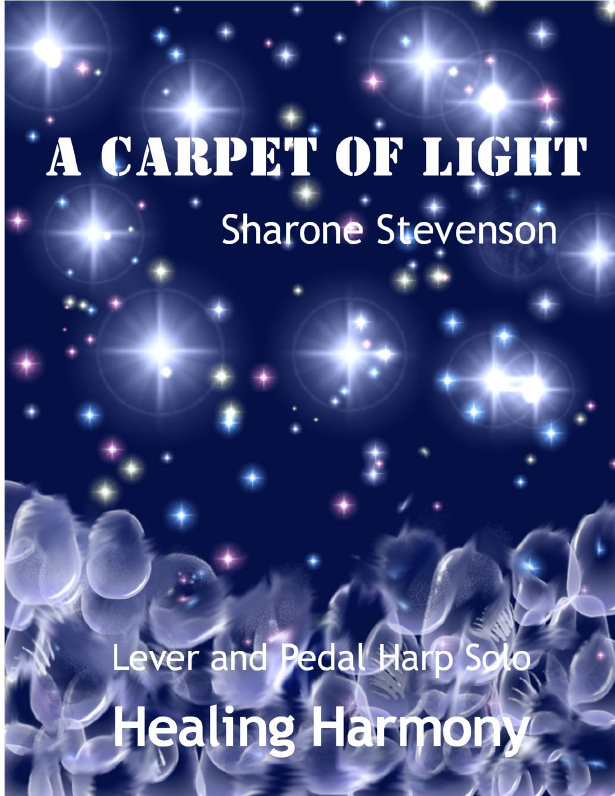 ISMN 979-0-9001512-0-9
Out of the depth of an evening sky,
A little fairy hurries by.
A silver wand held in her hand,
To guide her away from Fairyland.

Where she's going, she doesn't know
And something pulls, and it's not slow!
Faster and faster she flies so high,
Her fears forgotten in the indigo sky.



The little fairy looked all around,
She saw not a thing; heard only a sound.

"Who are you? Where are you? I can't see you.
All I can see is a deep violet blue.
I must be dreaming as it's already night.
It's all just darkness, there's no more light."






"You're just a voice, so how can you be?
How can I reach you, I can't even see."



A small silver star just lit up the sky.
She heard him laugh as she floated by.
As star after star now twinkling and bright,
The night sky was filled with "A Carpet of Light."
A Carpet of Light
"Reach out your wand as far as you can.
You're up in the sky, not in Fairyland.
Don't be afraid, you can't fall anywhere.
All around you now is magical air."
Original Music – Art – Poetry
Radiant Artistry
by Sharone
"Touch me little fairy, I want to shine.
This is your job, so you must be on time."
"Your magic wand knows where to go,
Believe it will find me, and it will be so."